Description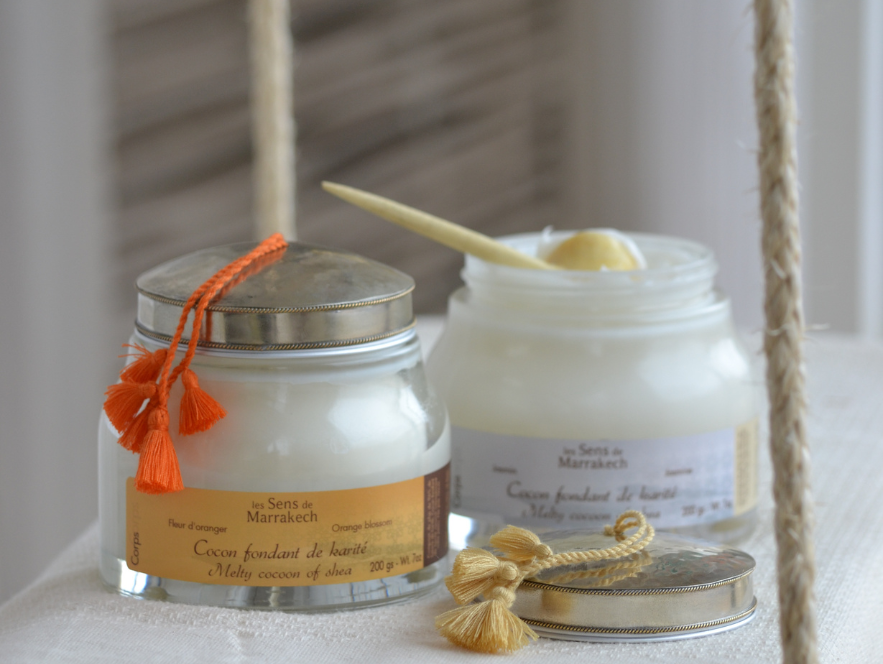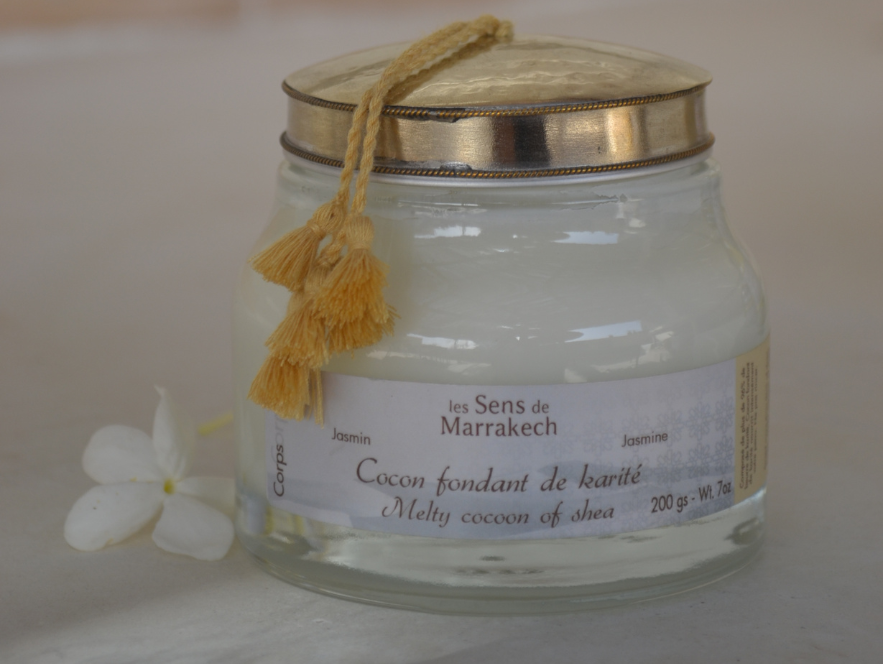 Compositions & ingredients
96% Pure Shea Butter:
Rich in Vitamins A, D, E and F: it calms and relieves tight skin (phytosterols, alpha and beta amyrine), Facilitates skin restructuring thanks to alcohols terpenes (lupeol, parkéol) and the phytosterols it contains, deeply moisturizes and nourishes the skin, regenerating the skin, it revitalizes the tissues and restores its elasticity to the skin.
Tocopherol (from sunflower and soybean oil):
Vitamin E. Prevents products from undergoing oxidation.
96,80 % Natural ingredients
INGREDIENTS : Butyrospermum parkii butter extract, parfum, tocopherol, soybean oil, benzyl alcohol, hexyl cinnnamal, linalool, benzyl salicylate, citronellol, eugenol
Ingredients
Jasmine

From May to October, the small white flowers of jasmine appear. They give off that scent so intense that the gardens is full of it.
Symbol of love in the East, jasmine takes you into an euphoric state.

Discover

Shea butter

White shea butter is already well known all over the world, do you know all the benefits of this incredible natural emollient?

Discover
Advice
Regular exfoliation gets rid of dead skin and reduces the risk of ingrown hairs. Not to mention that a well-scrubbed skin retains the tan better.
Make your tan last longer

Here is the natural secret to making your tan last longer. No need for extraordinary products, just some preparation time before the arrival of summer or before your vacation and that's it.

Read this article to find out quickly.

Read the article

Refillable packaging in Marrakech

Try the new concept in our Les Sens de Marrakech stores which consists of reusing packaging. This initiative will allow you not only to save money but also to participate in the protection of the environment. Welcome to try this novelty and read the article to know more.

Do not hesitate to read this article to learn about the history of the hammam and the differences between the Moroccan Hammam and the Turkish one.

Read the article

Choose silicone-free products

Because your skin is very precious, it deserves not only products without silicones but also a care that contains the treasures of nature. Your well-being is our responsibility, your satisfaction is our commitment, your happiness is our goal. Silicone was never part of the guest list of our ingredients and it will never be part of it.

We invite you to read this article to learn more about the harmful effects of silicone on your skin and the environment.

Read the article
Our customer(s) share their opinion
You too can make your voice heard. Your opinion counts !
For each review left, you will receive 30 points, wich 1.40€ loyalty discount!
You might also like
Scrub, Body
Exfoliates, softens and moisturizes the skin
Skin, Moisturizing milk with argan
Provides optimal nutrition for dry to slightly dry skin
Body, leave-in scented Argan oil
Ideal for moisturizing and softening dry skin