Description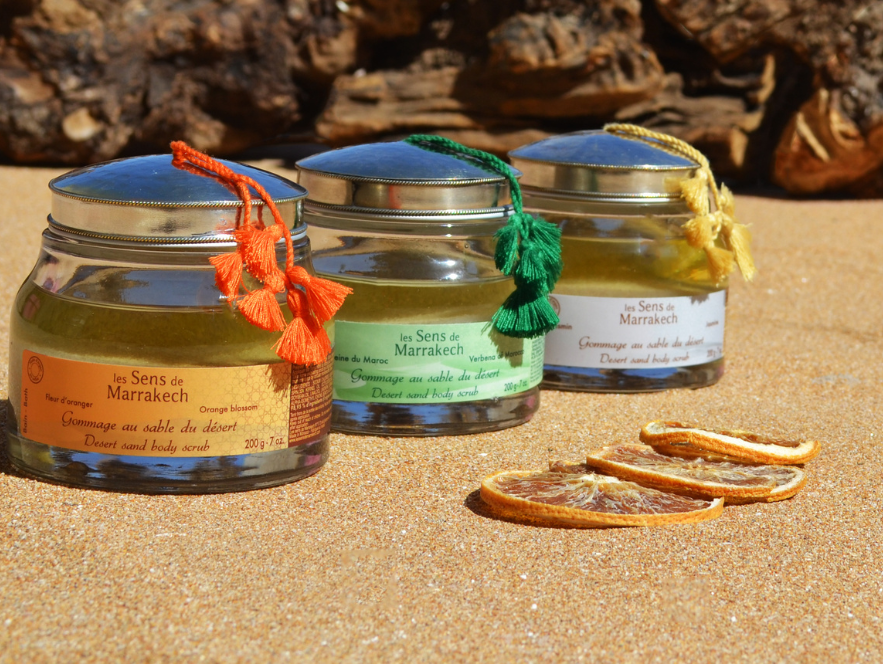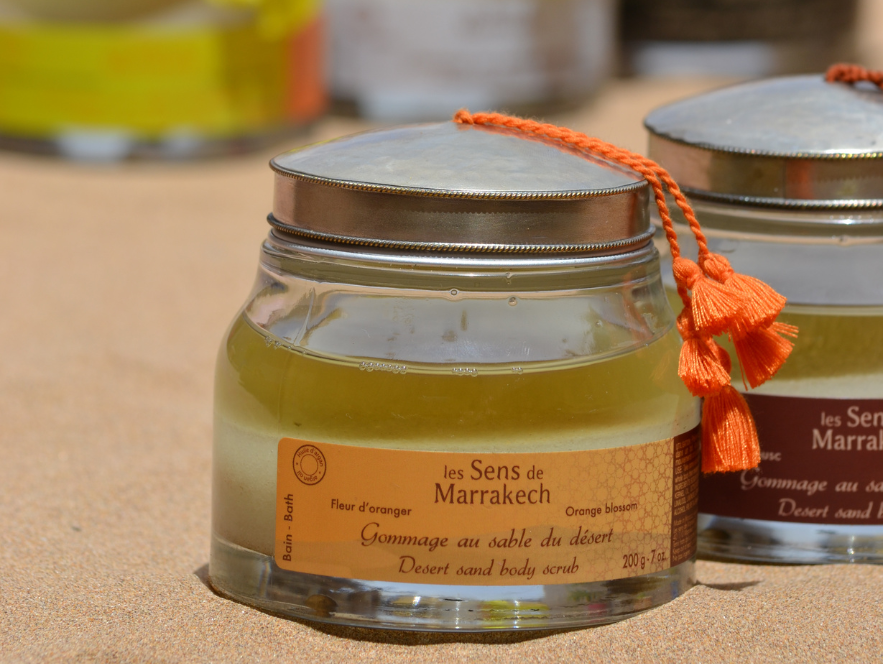 Compositions & ingredients
Desert Sand: Sourced from the Moroccan desert. Gentle natural exfoliant, its finesse gently exfoliates without attacking it. Suitable for all skin types to eliminate dead cells. It also beautifies the skin by oxygenating, regenerating and remineralising it.
Sea salt: Gentle natural exfoliant of mineral origin. Stimulates blood circulation. It also has an anti-inflammatory action.
Argan oil: Emblematic and endemic oil of Morocco. Rich in unsaturated fatty acids (approx. 90%), vitamins A (improves skin elasticity) and B, D and E (accelerates cell repair), Phytosterols: Firming, softening, antioxidant, anti-aging: neutralizes free radicals; Extremely nourishing, healing and protective. A real treasure for the skin.
Sunflower oil: Oil of cosmetic quality, restorative for the skin. It is indeed very rich in omega-6 (linoleic acid) and vitamin E, known for its softening and nourishing properties. It also prevents dehydration of the skin. Plumps up the skin, brings it softness and velvety.
Tocopherol (from sunflower and soybean oil): Vitamin E, prevents products from undergoing oxidation.

98,6% Natural ingredients


INGREDIENTS : Sodium chloride, hélianthus annuus seed oil, argania spinosa kernel oil, octyldodecanol, sand, parfum, tocopherol, soybean oil, linalool, d-limonene, benzyl salicylate, citral, citronellol, geraniol
Ingredients
Fragrant Mandarin

A shower of aromatic herbs crept into this mandarin warmed by a winter sun. A hymn to Oriental spices where basil flirts with freshly harvested citrus fruits. Discover the orange body lotion and other products from the fragrant mandarin range.

Discover

Natural Argan

A flagship ingredient at Les Sens de Marrakech, cosmetic argan oil is used in 90% of our facial and body products.

Discover
Advice
If you have sensitive skin, use this desert sand scrub once a week. make sure to moisturize the skin well after each exfoliation.
What you need to know about the moroccan hammam

The Hammam is the definition of several senses of Moroccan life. It is the place of sharing beauty secrets. Given its multiple benefits on the skin, the Moroccan Hammam is an indispensable routine for Moroccan women. As the best place for scrubbing and nourishing your skin, this cultural concept always coexists to link tradition and modernity.

Do not hesitate to read this article to learn about the history of the hammam and the differences between the Moroccan Hammam and the Turkish one.

Read the article

3 essential benefits of our shower oil

Have you ever tried Water Care Oil? If not yet, now is the time to do so. Composed of several oils, it is used after the shower gel to intensely nourish the skin. It does not contain soap and absorbs quickly into the skin, no greasy feeling at the end.

We invite you to read this article to discover 3 essential benefits of water care oil.

Read the article

Choose silicone-free products

Because your skin is very precious, it deserves not only products without silicones but also a care that contains the treasures of nature. Your well-being is our responsibility, your satisfaction is our commitment, your happiness is our goal. Silicone was never part of the guest list of our ingredients and it will never be part of it.

We invite you to read this article to learn more about the harmful effects of silicone on your skin and the environment.

Read the article
Our customer(s) share their opinion
You too can make your voice heard. Your opinion counts !
For each review left, you will receive 30 points, wich 1.40€ loyalty discount!
You might also like
Body, leave-in scented Argan oil
Ideal for moisturizing and softening dry skin
Body, Argan scrub
Reveals smooth skin, visible effects immediately after use
Skin, to spray
Alcohol-free milk mist to spray, moisturizes, refreshes